Camden County Library has introduced a Books and Cooks initiative, designed to promote food literacy, particularly in communities such as Camden considered 'food deserts' by the US Department of Agriculture. The library won a grant from the NJ Department of Labor and Workforce Development based on its proposal to develop and implement a food literacy program. A centerpiece of the program is a mobile kitchen complemented by a collection of books about nutrition, healthy eating and consumer literacy with iPads and a mobile hotspot available. The kitchen can be transported to any of the library's eight branches and other locations to demonstrate cooking techniques and recipes, as needed.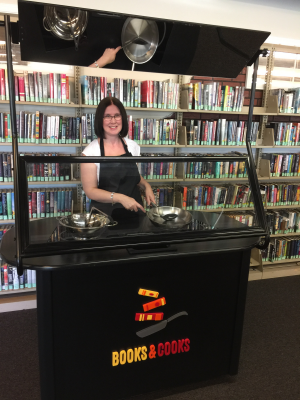 Classes and workshops will be offered for audiences with a variety of needs including ESL, basic literacy, nutrition-conscious parents and those seeking to provide healthy meals on a limited budget.
The library is partnering with the Camden County One Stop career center to offer classes at its location on Mt. Ephraim Ave. each Tuesday morning  while Literacy Volunteers of Camden County will conduct weekly Healthy Eating classes for ESL speakers at the Voorhees branch of the Camden County Library System. The Books and Cooks initiative is also offering the general public classes on a variety of food and cooking topics. 
In conjunction with its Books and Cooks project, the Camden County Library System is conducting a food drive beginning October 17 that will have clearly marked donation bins at each of library's eight branches. Donations of non-perishable food items will be collected by designated organizations in the area that each branch serves. The food drive is expected to run to May of 2017.